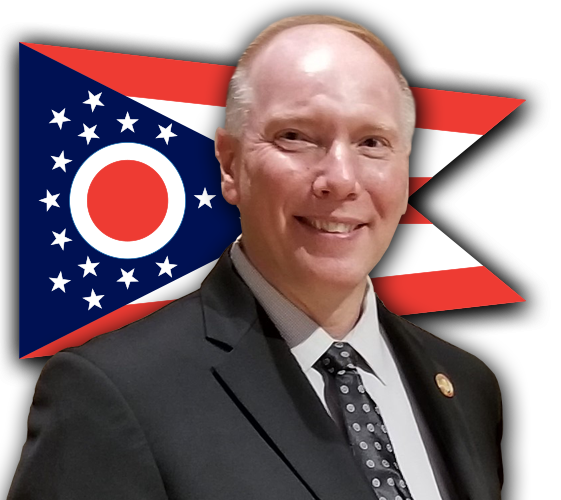 "Clermont County State Rep. John Becker, one of the most conservative members of the Ohio House…"

Cleveland.com
August 2019

Becker wins "Sponsor of Liberty" award.

The Republican Liberty Caucus of Ohio
October 2018

"Becker has a legitimate claim as the state's most conservative legislator"

The Cleveland Plain Dealer
September 2017

"Rep. John Becker, suburban Cincinnati Republican… [holds] the unofficial title as the General Assembly's most conservative lawmaker."

Columbus Dispatch
September 2015

"GOP Ohio House freshman Becker is no shrinking violet."

The Columbus Dispatch
December 2014

"Becker…is arguably the most conservative member of the Ohio House."

The Cincinnati Enquirer
January 2014

"Ranked as a top tier "most archconservative."

The Columbus Dispatch
September 2013
Pro-Life – Pro-Gun – Lower Taxes
LIMITED GOVERNMENT
Sign up today and receive my monthly newsletter with important information and action items.
Sign up today and receive my monthly newsletter with important information and action items.
John Becker, CTP, MBA
Union Township Trustee
Vetted, Tested, and Proven
Becker Wins!!!
Many thanks to the voters and those who supported my campaign for Union Township Trustee in the 2021 election. Some made herculean efforts and all amounts of support were greatly appreciated. No campaign is a one-man show. A successful campaign requires a team of dedicated volunteers. You are the winners.
Since the election, I've been busy disassembling The Becker-Mobile (removing the 4×8 Becker sign (complete with lights) mounted 10 feet high in my F150), collecting signs, returning congratulatory calls, texts, and emails, putting away campaign materials, and getting my life back to normal.
Congratulations to Joe Dills who came in first place by a wide margin in this "pick two" election. (He worked the campaign hard and he earned it.) I am very much looking forward to working with him and Trustee Michael Logue beginning in January 2022. Additionally, I'm also looking forward to working with the entire Union Township administration team. They are all very fine people.
The other three candidates deserve praise for running strong and clean campaigns focused on their strengths and the issues. They are all good men and I wish them well.
Over the next few weeks, I'll be setting up meetings with the fiscal officer, each department head, and union leaders to hear their suggestions and concerns. I intend to do a deep-dive into our zoning policies, assessing the possibility of placing recycling bins near the service garage, installing speed tables in various neighborhoods, and allowing CCW permit holders to carry concealed in the Union Township government buildings. (Ohio law allows open carry of firearms in most government buildings and permits the trustees to allow concealed carry for CCW permit holders. Schools are excluded.)
State Representative John Becker (2013 – 2020)
Ohio's 65th House District includes the cities of Milford and Loveland (inside Clermont County) and the townships of Union, Miami, Goshen, Stonelick, and Wayne. The area is approximately the northern or northwestern third of Clermont County.
As you may know, I am one of the few who walk the talk when it comes to supporting conservative legislation. Whether it is eliminating Common Core, Medicaid expansion, or excessive taxes and spending, I have the track record to prove it. Additionally, my support for innocent human life, gun rights, and religious freedom is unwavering.
This is what the media says about me:
"Clermont County State Rep. John Becker, one of the most conservative members of the Ohio House…" according to Cleveland.com (August 2019).

Becker wins "Sponsor of Liberty" award by the Republican Liberty Caucus of Ohio (October 2018).
"Becker has a legitimate claim as the state's most conservative legislator," according to The [Cleveland] Plain Dealer (September 2017).
"Rep. John Becker, suburban Cincinnati Republican… [holds] the unofficial title as the General Assembly's most conservative lawmaker," proclaimed the Columbus Dispatch (September 2015).
Becker wins prestigious William Wilberforce Leadership Award (April 2015).
"GOP Ohio House freshman Becker is no shrinking violet," headlined the Columbus Dispatch (December 2014).
"Becker…is arguably the most conservative member of the Ohio House," said The Cincinnati Enquirer (January 2014).
Ranked as a top tier "most archconservative" by the Columbus Dispatch (September 2013).
Being a principled conservative is what earned me that reputation and those accolades. I didn't go to Columbus to spend your money faster than you can earn it, "kiss up to the right people," or position myself for a higher office. I went to Columbus to defend, support, and promote your conservative values. That is what I do.
Being a minimalist would best describe my philosophy on government. Regarding taxes and regulations, let's start with zero and negotiate from there. Obviously, some level of both are required for a functioning society. Only an anarchist would think otherwise. I want to keep taxes and regulations as minimal as possible.
I want to eliminate Common Core and sanctuary cities. I favor phasing out the Income Tax and Commercial Activities Tax (CAT). Regulatory reform for schools and local governments will allow them to operate more efficiently. For example, Ohio needs to put an end to unfunded mandates. The state should either pay 100 percent of the cost or drop the mandate. Ohio also needs a competitive, cheaper, and more efficient workers compensation program. Furthermore, if medical providers had immunity from malpractice litigation for indigent (charity) care, they could provide health care services more economically.
I've lived in the Cincinnati area all of my life and in Clermont County most of my life. I bought my first house in Mt. Carmel in 1985. My wife and I built our current home in the Eastgate area in 1991. She has very successfully home schooled our daughter. Please see my resume for more information about my education and career path.
From 2004 until 2012, I've held an elected political office called Republican State Committeeman. I was a member of the governing body of the Ohio Republican Party. I've also served as a precinct committeeman for the Clermont County Republican Party since 1993. I write The Becker Report. Most of my readers would agree that we need fiscal and social pro-family Christian conservatives in government who are willing to defend, support, and promote the conservative values of Clermont County. That is why I ran for the office of State Representative.